Wooden Furniture
Tips and Tricks to Sell Your Second-Hand Furniture Online
|
Dec
16
2021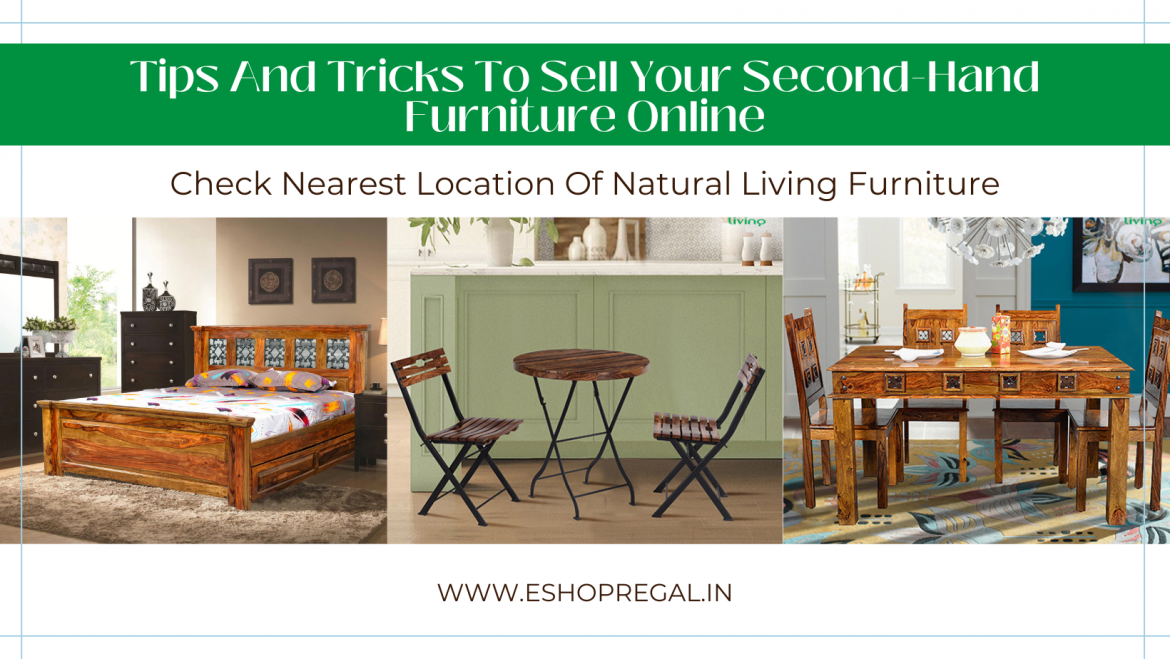 Who is the best second-hand furniture buyer in Pune?
We receive variations of this question daily on our contact page & E-mail. It becomes difficult to reply everyone's mail, so we decided to put all tips & tricks into a single post that can help everyone get better price for second hand/ old furniture.
If you are the one looking to sell unwanted furniture in cities like Pune & Bangalore in order to declutter, downsize, upgrade or replace it with new. Then here are some tips that might help you in this process.
If your furniture worth selling?   
Practically ask yourself this question, before you start hunting for platform to sell your furniture. Some things don't contain second life in them. There could be many reasons for not to sell your furniture like, people are getting same new piece at lower price than your offer or your furniture is dilapidated enough it is cracked, ripped, broken or stained. In this case it is better you try giving it away to someone or store as your antic (junk) collection.
But what if the piece is in good & sturdy condition. You can contact with our experts to valuate real price of your furniture and buy new one instead. More about that later…
Tips and Tricks
Appearance matters when it comes to selling second hand furniture. Clean & tidy always sells better. You can try out these simple tricks to make your furniture more appealing to buyer.
Remove Wooden Stain
Use warm water and mild detergent solution to wipe away the dust. Don't saturate wood and rinse your cloth often.
Dry out wood with another clean cloth to avoid swelling of wood.
You can use tablespoon of baking soda to remove difficult marks.
Add two tea bags to boiling water to remove old polish from wood.
Now polish the furniture to provide its natural look. We can use varnish, shellac or lacquer for a glossy look. For matte, go with oil or wax.
For homemade polish mix 1/4 cup white vinegar with 1 cup of olive oil.
Cleaning Upholstery
Use brush attachment vacuum to remove dust and debris from your sofa or other upholstery furniture.
Don't forget to clean crevices where most of your food crumps, dirt and pet hair accumulate.
You can use steam vacuum with mild detergent and water solution.
To remove old stains, mist the area with vinegar solution and rub it with cloth until it left.
Use vinegar with detergent, olive oil or liquid dish soap for fabric, leather and synthetic upholstery respectively.
Now let the couch dry in sunlight.
Repair
Tighten handles, spindles and knobs with appropriate tools.
Use standard cold press glue for veneer.
Fill in cracks and scratches with wood putty, wax, shellac sticks or glue.
Paint
This part is totally optional, we recommend painting only if you have a handful of experience otherwise you will end up doing a mess.
If you have wooden furniture then there is not as such need to paint it.
Instead, you can retouch your chipped or peeling furniture.
Despite of the fact that, these tips look pocket friendly and can increase value of your furniture, it becomes difficult for average working person to deal with unless he/she has to spoil his/her weekend. Hence, we "Natural Living Products" decided to provide you full-proof solution to get rid of your old furniture.
How Can Natural Living's Exchange Offer Help You Sell Second-hand Furniture?
We Natural Living Furniture is sole manufacturer and retail business of sheesham wood, solid wood, mango wood, old wood furniture in Pan India. We manufacture furniture for various needs including house, garden, café, restaurants and hotels. We have our own manufacturing units and retail stores in cities like Pune, Bangalore, Vishakhapatnam, Jodhpur and Jaipur.
Hence, it becomes easy for us to provide a best value for furniture in accordance with what type of wood or material used in it with looks of furniture. So, this helps you to take away headache of glorifying your furniture and spending all your week to find best purchase.
How can I apply For Exchange Offer? 
To opt-in for exchange offer you just need to follow these simple steps:
Call Us: Have a word with our experts to ask the queries you have in your mind regarding offer. This conversation may include inquiry of nearest retail store in your locality.
Visit Us: Visit our retail store in your locality to get the knowledge about wooden furniture quality and to know about exchange rates and price for your furniture. You can buy new set of furniture in exchange with of old one. We have our outlets available PAN India. Check our store addresses here
Order: Order a new set of furniture from our varied themes and you are set to go!
Redeem Extra discount On Your first Purchase, Call us Now!!